by Lauren Moraca
I had an epiphany a few days ago. Here I am, over two years out of college, over a year since my last credential class, and it suddenly dawned on me: I had lost the love of reading. I only work 15 hours a week, and what am I doing with all this time? Television. No books anywhere in sight.
I don't blame it on the school burn-out completely, it's just as much myself and my scatterd thoughts and perhaps cable and Netflix.
"Lauren just hasn't gotten the hang of reading," my second grade teacher, Mrs. Greshem, said to my parents during my final parent/teacher conference. "But I'm not worried." Clearly, it was only a matter of time.
When I think of reading, I remember being in 3rd grade. Significance? You had to start reading chapter books in 3rd grade. I HATE READING!!! I would scream at the top of my lungs. IT'S TOO HARD!!! You had to read a certain amount of pages a day, and I couldn't get through a page without forgetting what I had just read. Frustration, all the time. Screaming, crying frustration. And my poor mother, who loved reading, didn't get it, and try as she could, coudn't help.
My very first 4th grade teacher conference. "Lauren used to hate reading," my parents said. "You're kidding?!?" Ms. Barse replied.
I would say the rest is history, but it has come in waves. Reading new things, I mean. Over time I found my nitch, with J.K. Rowling and Laura Ingalls Wilder, Judy Blume and Nora Roberts. I have a kind of rotation every year, reading the same 15-or-so books. For some reason, my curiosity of new stories and adventures had dissapeard. Where did this girl that read 30 books a summer go? What happened to that thirst?
The point of this post, my dear friends, is that I'm on a mission. I went to the library two days ago with a list of suggestions from friends and family, and emerged victorious, with a little more than I can chew. 5, count them, 5 250+ page books to be read in two weeks, by December 9th. I have never read any of them.
My goal is to post a little review and discusion after I finish each one. Then next month, maybe 5 more? We shall see.
Big: Who goes to the library anymore?
Carrie: I love the smell.
It's so true. I keep sniffing the book I'm reading. Stay posted my friends, I'm hoping to finish my first one this weekend: Julie and Julia by Julie Powell.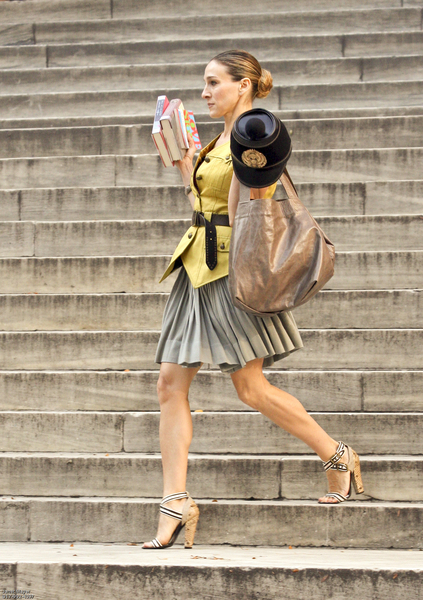 Tags: Book, Sex and the City
---